RAM Landscape Services, Inc. is a complete landscape design and build company serving the entire West Metro, MN area including Chanhassen, Victoria and Waconia, MN. Our experienced designers and landscape installation crews have worked on projects all over the region. Our projects range from small garden beds and block retaining walls to patios and large scale designs with pools, pergolas, and Rhino Courts. Our landscape design team, Ron Wischnack and Troy Bermel, have years of experience and keep take classes to keep updated on industry trends.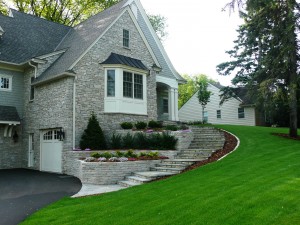 Our landscape services are for both commercial and residential customers. We want to represent your company brand with a professional image, inside and out. Every day your landscape presents a public image to visitors, clients, employees, and passersby. Our custom landscape team will create and maintain a professional and welcoming presence, all year around.
As for our residential landscape services, we want you to enjoy the outdoors, right in your own backyard. A well design landscape can increase the value of a home while providing a peaceful retreat and the ultimate place for entertaining family and friends. Our designers will help create the perfect outdoor living space specific to your needs.
Our custom landscapes are designed to improve your lawn and welcome people to your home or business. We are proud member of the Better Business Bureau and the Minnesota Nursery and Landscape Association.
Call us today for your free consultation at 952-479-4058.
Tips for Hiring a Landscaping Professional

Q:How can I avoid being held liable for accidents or damage to my property?

A:Make sure your landscape professional has proof of Workman's Compensation and Liability Insurance.

RAM Landscape Services  does carry workman's compensation and liability insurance. These certificates are available upon request.

Q: How can I be sure that the company I hire will follow through and produce quality work?

A: Make sure the professional you select holds a valid state license or certification from a professional organization.

RAM Landscape Services does hold a valid state license (#171976) and is certified from the Minnesota Nursery & Landscape Association.

Q: How do I know if the professional I want to hire is in good standing?

More…

Serving the entire West Metro including: